How One Winery is Leveraging Digital Selling in 3-Tier (Case Study)

Ben Salisbury
Finding New Sales Opportunities
If necessity is the mother of invention, then who is the father? Opportunity, perhaps? This is the story of how a small Texas winery is leveraging their newfound skills in digital selling. To take more control of their own destiny.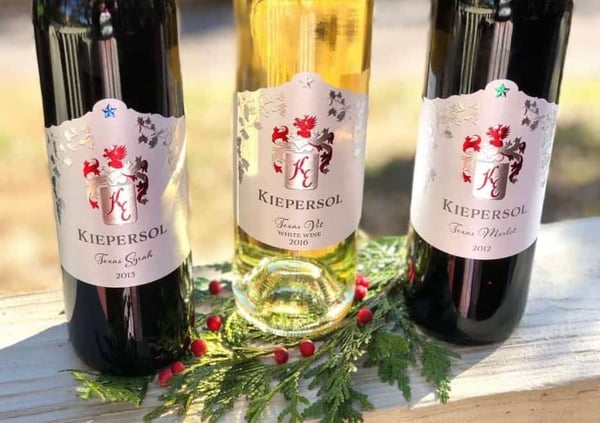 Kiepersol Bottle Shots
Just south of Tyler Texas, atop a picture-perfect hillside sits a beautiful estate winery called Kiepersol. Like all of the 400+ wineries in Texas, COVID hit Kiepersol hard. But, the Kiepersol team quickly sprang into action in search of ways to unlock new opportunities to grow sales.
Some of the new actions were easy and obvious. Like adding drive-thru sales from their tasting room. And modifying their on-site restaurant to optimize Texas's occupancy allowances for onsite dining. The winery team also got aggressive with e-commerce to take advantage of the surge in online sales to move through some inventory.
But since few people were out and about visiting wineries, Kiepersol also needed to make adjustments outside of the winery property itself. And that meant ramping up the opportunities in the wholesale tier.
Taking Digital Selling to New Levels
In late July, Kelly Doherty, the Founding Brand Manager for Kiepersol, learned about my free training webinar, "How to Become a Digital Wine Sales Pro" and registered to attend. During the training, which was a crash course in selling to the 3-tier channel digitally, she learned all about Customer Relationship Management databases (CRM), Key Account Targeting, Email for Trade Sales, and Lead Generation.
While over 300 people also participated, few acted as quickly as Kelly did.
Kelly Doherty, Founding Brand Manager,
Kiepersol Vineyard & Winery
"One of the first things we did at Kiepersol was clean up our email list to jettison all the low or no engagement subscribers. While it reduced our list by almost half, the remaining subscribers were our true fans and this allowed us to figure out what these fans really want," says Kelly. "We also shifted away from a 'newsletter-only mentality' to sending highly targeted, very brief emails to much smaller, tightly segmented groups. We saw our open rates increase notably because we were literally speaking one-to-one with our customers – at scale."
Finding New Wholesale Customers Was Key
One of the biggest opportunities for Kiepersol was to take advantage of the new skills Kelly learned to find more retail accounts to carry their products. Texas is a big state with some massive marketplaces like nearby Dallas/Ft Worth and just-down-the-road, Houston.
Kelly was quick to recognize that her distributor partners were also reeling from the pandemic. And she was going to have to do her part to find new distribution to help her distributors help her.
"In Ben's training, I learned how to do the research to find accounts that would be a good fit for our wines & spirits. This was an eye-opening experience for me as I learned how pursuing the right accounts was far more effective than just trying to get into as many accounts as possible."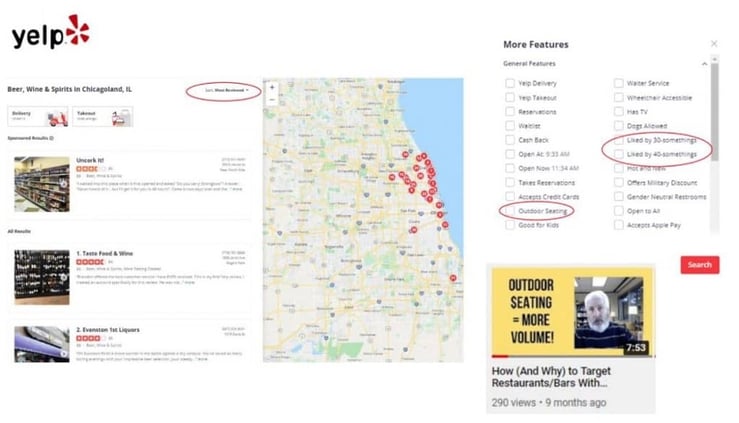 Account Research Tools
Kelly became bolder about trying out various digital connections with trade buyers on platforms like LinkedIn. "Things I would not have thought of before Ben's training just clicked. I am starting to see which accounts are worth pursuing as well as the importance of connecting with people at all levels of the industry for brand awareness."
Learning the Power of CRM Firsthand
Kelly also leveraged her new CRM skills to stay more organized with all these new trade outreach efforts. Keeping the distributor sales reps in the loop all along the way was especially important to her. "I learned in Ben's training the importance of 'tagging' accounts, buyers, and even distributor sales reps in both my CRM system and my trade-only email list so I could better tailor my correspondence to what each person truly cares about."
One unforeseen benefit that sprung out of these new habits was how much more responsive people were. "Because I am asking better questions based on each person's preferences, genuine business relationships are starting to form – digitally."
Finding, Attracting, and Retaining Trade Buyer Relationships Digitally
While it is still a work in progress, Kiepersol is well on their way to cultivating deeper, more meaningful relationships with key trade buyers. By providing ways for them to "opt in" to their private, industry email list. As this list grows, so will their distribution.
Kelly started by updating the trade-only section of their website. To not only roll out the digital red carpet for trade buyers and distributor sales pros, but also provide critical sales support materials to anyone who wanted them. Such as, tasting notes, bottle shots, label images and videos. And not just for current releases but for their entire portfolio.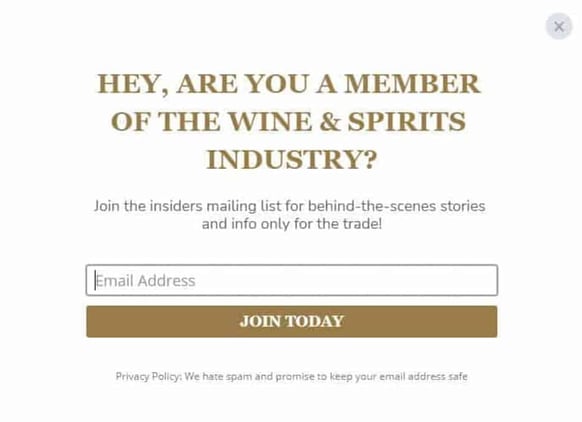 Join Kiepersol's Trade Email List
"Ben's training has helped me learn what is important to me. That was a big shift for me," says Kelly. "But it also helped me find out what is important to trade buyers." And THAT is going to set Kelly and Kiepersol up for success for many years to come!
All of this is impressive enough but when you consider Kiepersol has ZERO full-time three-tier salespeople on staff, it is hard not to be inspired by how Kelly and her team are fully leveraging technology in their sales process and selling digitally.
Lead Generation: The Golden Goose of Digital Selling
Kelly and the Kiepersol team were already doing a little lead generation on their website (recipes, cocktail guides). But, they are now taking it to an entirely different level. Using a combination of high-quality, high-value lead magnets and well-targeted Facebook ads, Kiepersol has found they can now grow their email list at will.
I recently "tested" one of their lead magnets myself and found the process elegant, engaging, and seamless.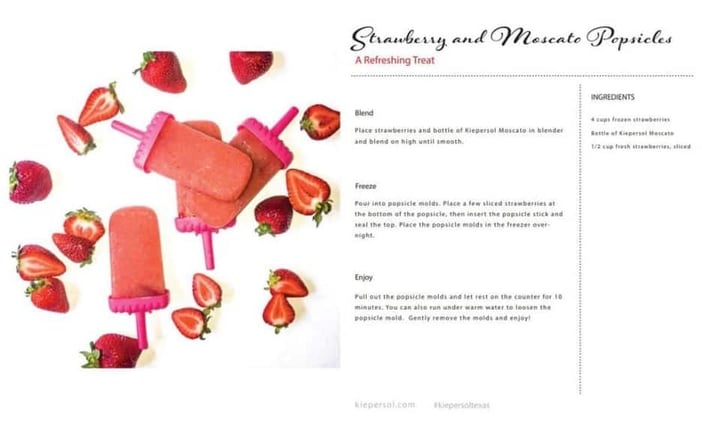 Kiepersol Popsicles
Moving into 2021 with Confidence!
Kelly will be the first to tell you there is still much more she wants to learn, practice, and implement. But she and the winery team are off to one heck of a running start!
When Kelly first signed up for my training in late July, my new online course, Wine Sales Stimulator had not yet been built. But once it was completed in late September, Kelly was the very first one to watch all thirty-five videos and consume more than thirteen hours of content. She has become – for me at least – the quintessential example of someone who will not be held back by a pandemic (or anything else for that matter).
To take a closer look at what Kelly learned, including a detailed training syllabus, visit www.winesalesstimulator.com for more details.