Recommend Wine Sales Stimulator. Earn Commissions.
Wine Sales Stimulator Partner
Earn up to

$600

per referral!
Grow your business by becoming a Wine Sales Stimulator affiliate, earning up to $600/year per referral. All you need to do is sign up to receive a unique link and you can start referring your followers to our group membership program for wineries and craft distilleries.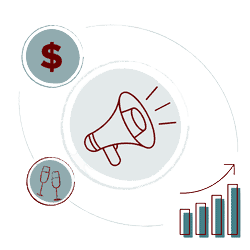 How it works
If they sign-up for the monthly payment plan, you earn $50/month for 12 months ($600 total). If they pay in full, you earn $500. The more members you refer, and the longer they stick around, the more you can earn!
Use your unique link immediately
Once you're approved as a partner, you'll receive an email with your log-in details and you'll get:
✔️ Your unique referral links, which work as soon as you get them!
✔️ Access to the exclusive Wine Sales Stimulator Affiliate Portal
✔️ A dashboard to track your progress and commissions
Get a free starter pack with resources for success
Sharing your link to start earning is simple. But to make it even simpler, we've put together a few resources you can use:
✔️ Graphics that you can use across social media and in your own content
✔️ A variety of links you can use to share with your audience
What is Wine Sales Stimulator?
Wine Sales Stimulator is a group membership program providing winery and distillery owners and executives the training they need to grow sales. The program includes online classrooms, a private networking group, and weekly live coaching sessions. The self-paced training modules cover twelve topics relevant to increasing sales. The program was created by Ben Salisbury, an established expert in selling and marketing wines and spirits.
What's the cost to become an Affiliate?
There is no cost to join our affiliate program.
Do I have to be a member of Wine Sales Stimulator to become a partner?
You do not have to be a member or become one to participate in our affiliate program. However, the most effective way to promote our program is by having experienced Wine Sales Stimulator firsthand. We want our partners to be confident when talking about our program, but we understand everyone's position may be different. We'd still love you to be our partner!
What kind of referral support/resources do I get?
We'll provide you with tracking links and marketing graphics that has performed well for affiliates in the past. Plus, you'll also get monthly emails about updates to our program and blog that might interest you and your audience.
How long are referral link cookies valid for?
Our cookie length is 120 days. This means you can get credit for purchases made within 30 days generated by traffic you sent our way.
What is a qualifying sale?
A qualifying sale is a new member who signed their contract that was processed through your affiliate referral link.
How often do you pay out commission?
We pay commissions once per month via PayPal. When you register as an affiliate, we ask for your Paypal email address for payout purposes.
How can I reach you to learn more about the Wine Sales Stimulator Affiliate Program?
How can I track my referrals?
Once you
sign up
and your account is approved, you will receive an email with your log-in details. When you log into your dashboard, you can track your link clicks, and commissions.