Free Guide: How to Sell to On-Premise Accounts for Wine and Spirits

Ben Salisbury
Elevate Your Wine or Spirits Sales Game with Our Comprehensive On-Premise Guide!
For whatever reason, the on premise realm tends to mystify a lot of people. Sign up below to download my 14-page white-paper on successfully selling to on premise accounts.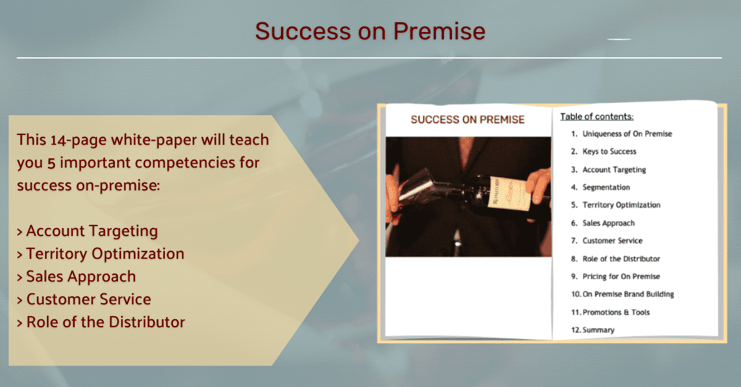 Are you prepared to increase your wine or alcohol sales to new levels? On-premise wine distribution presents a special and lucrative opportunity, but success necessitates a certain strategy. Whether your business is well-established or just getting started, it's critical to comprehend the nuances of the on-premise channel. With our unique free guide, you can unlock the secrets of this dynamic domain and position your business for growth.

We will explore a wide range of issues to help you make the most of this fascinating channel as we examine the key elements of on-premise wine sales via a strategic lens.
I wrote this over ten years ago when I was VP of Global Accounts and On Premise Strategy for Ste Michelle Wine Estates (1997-2009). I updated it slightly when I was at Constellation Brands (2009-2014). But, other than a few tweaks, it has endured for many years as is and is consistently one of the most requested items I've authored.
For whatever reason, the on premise realm tends to mystify a lot of people. I guess it's because so much of our industry is geared toward the off premise world. After all, off premise typically generates 80-90% of a wine or spirits company's sales volumes.
And when it comes to EDUCATING sales people about how to be successful selling to on premise accounts, most of this "education" revolves around product knowledge. Very little if anything is written about how restaurants work, operate, and BUY.
Here's a look at the topics covered inside on-premise wine sales success guide:
The uniqueness of on-premise wine or alcohol sales.
Mastering 5 essential keys for on-premise success (account targeting, territory optimization, sales approach, customer service, and the role of the distributor).
Key account targeting strategies to identify high-volume on-premise channels for wine and spirits
Segmenting accounts based on category, volume, events held, etc.
Strategic territory optimization to focus sales activity.
Sales approach techniques for wine or alcohol on premise sales reps
The importance of customer service for the 'hospitality focused' on premise accounts
The role of the wine or spirits distributor and what to expect them to deliver.
Pricing your wine or spirits correctly for restaurants and hotels
Using on-premise placements to build your brand.
Tips on when and how to properly use promotions
Navigating on-premise tools; when to use 'hard' and 'soft' tools for success