How to Work Successfully with Wine Distributors

Ben Salisbury
Thanks to the pandemic, the rise of online wine ordering, dramatically increased competition, wineries everywhere need to learn to sell beyond their tasting room and entering the 3-tier world of wine distributors is an excellent opportunity. But caution flags abound!
This is one of the most misunderstood, misconceived, and misadvised topics in the wine (and spirits) sales game. When it comes to the capabilities of the modern distributor and what they can (and cannot) do for wine brands, things have changed quite dramatically.
To fully understand the role of today's wine & spirits distributors (a.k.a. "wholesalers"), you have to go back in time.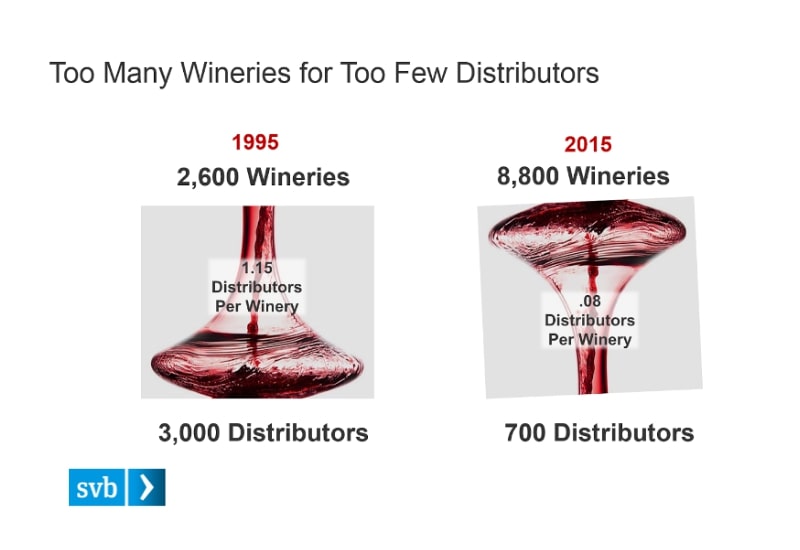 The role of the distributor has changed and so must you!

At one time there were almost an equal number of wineries and wine distributors here in the US. But not any more. Not by a longshot! In fact, the "ratio" of wineries to distributors has twisted far beyond recognition; it has created a very real dilemma for wineries everywhere. What distributors used to be able to do for wine brands they can no longer do. Distributors large, small, and medium-sized are all in the same boat: they are completely overwhelmed with brands to sell.
This sets up a new reality which is this: the burden of building new sales and distribution has shifted from the wholesaler to the brand owner. Therefore, if it is important to you (the winery), you are going to have to do it yourself.
Aligning expectations with reality.
As consultants, we intersect regularly with hundreds of wine (and spirits) brands and we continually find ourselves baffled by the utter lack of acceptance of this new reality. How could so many people be so wrong in their expectations?
This question is not rhetorical. Many get this wrong and we do not want you to be among the misinformed.
What used to work, no longer works and wine brand owners would be wise to start with some very basic, baseline expectations. The "modern" perspective of the role of a wine distributor and what you can expect from them is this:
Hold inventory of your products in their warehouses (30 days worth for domestic wines, 45 days for imports)
Deliver the products to the retail and restaurant accounts that you and your team have sold to.
(Potentially) match your efforts in the market
If you START with these expectations, and take responsibility for generating your own demand, you will be able to get much more out of your distributors.
Avoid this trap at all costs!
There is a misguided notion that if you can just land a major distributor in [fill in the blank] state, you will be able to tap into their army of feet-on-the-street and key buyer connections to sell far more product than you ever could on your own. This is simply not true any more.
They are too overwhelmed with items to sell. No amount of education, training or incentives will help. In fact, if you pay a distributor for new distribution incentives, whatever placements are achieved will quickly evaporate. "Churn" is one of the ways that distributors survive the revolving door of monthly priorities.
There was a time when you could truly partner with a distributor, build solid relationships with them, teach them about your products, work with them, and they would help you ramp up marketwide distribution. But, those days are long gone. The sooner wine brand owners accept this, the sooner they can begin implementing the alternatives.
So what are the alternatives?
We know from experience that many reading this will simply not accept this reality. After all, there is no shortage of advice to the contrary. Most of that advice is dispensed by people who are still living in the past.
If, however, you are ready to take action and make the necessary adjustments, this post will be of great benefit to you.
Here, in a nutshell, are the alternatives:
Let's dive more deeply into each of these strategies.

Sell as much product as you can DTC.
Selling thousands of cases of wine in the 3-tier (trade) channel should not be an alternative to DTC sales efforts but in addition to them.
Winery owners should do everything in their power to optimize their DTC sales before venturing into the 3-tier realm. If there is one area where the winery has the opportunity to completely control their own destiny, it's direct-to-consumer sales. Get all of this you can! Click here to learn HOW to sell DTC like a pro.
Learn to generate your own demand.
This is all about using an inbound marketing strategy (instead of outbound). Wineries today must learn how to leverage "lead generation" and continually grow their list of email subscribers (both consumers and trade).
You will have a much easier time getting the distributor to help you (not to mention key account buyers taking in your products) if you can show them you have a massive email list with a high open rate. This is proof your products will not gather dust in their warehouse (and on the retail shelf).
To dive deeper into this topic click here to learn more about how to generate your own demand.
There is more to email marketing than newsletters.
Modern email marketing for wineries is not about newsletters and "blasts." Those tactics went out of fashion in the late 90's. Most wineries still use newsletters because they do not know what else to do.
Email marketing done right is all about personalization, segmentation, and automation. We have more information about how to optimize email for wine sales. But for now, here are a few key tips:
Make sure your website is optimized to take on new subscribers (multiple places on your site with compelling reasons to join)
Set up an automated "welcome" email for new subscribers
Continually segment your subscribers into smaller groups based on interests and preferences
Regularly purge "cold" subscribers from your list
If you must use a newsletter, only send it to subscribers who have expressed interest in it (check your open rates)
Leverage DIGITAL 3-tier.
If you are not already familiar with LibDib, you need to visit their website immediately and become well acquainted with their platform and services. This strategy did not even exist 6 years ago!
If you have not already appointed a "traditional" 3-tier distributor in one or more of the following states, this is very good news for you. LibDib currently services CA, CO, FL, NY, NJ, WI, IL, TX, MD, CT, and MD.
Many brands find it much easier to start "digitally" before growing into a brick and mortar situation. The level of customer service provided by LibDib is second to none and they will be very happy to walk you through the setup process. Run – don't walk – to get started on this!
How to pursue "winery direct" deals
This strategy works equally well for spirits. The winery direct game is rather simple. Major retailers form a relationship directly with a winery and instead of using a traditional 3-tier distributor, they use a "clearing" distributor to legally transport the goods into the state. These "bump-the-dock" logistics providers charge significantly less as they typically have no warehouse, no salespeople and only the bare minimum number of employees.
These winery direct relationships allow the retailer to make a much fatter profit margin because they have lower acquisition costs but also avoid any retail price comparisons as they are typically the only ones in the state carrying these brands.
Total Wine & More is the master of this game and it has caused all of their competitors to seek out their own "winery direct" relationships. This video will teach you how to do spirits direct deals.
How to earn the respect of your distributors
When a distributor sees you and your team taking time to learn their market, paying attention to how they make money, observing you putting in the time on the street actively selling, and showing respect for their time, you will quickly rise to the top of the supplier partner list.
Distributors will help the suppliers that help themselves. They are not going to do it all for you. When you take the time to learn about the role of a wine distributor, you will be much more successful.
Control your own destiny!
A healthy perspective on working with distributors is this: if it's important to you, you will have to do it yourself. Here are the most important things you need to do yourself:
Identify the "richest" accounts in the market and create your own list of target accounts.
Identify the key buyer contacts in each of these target accounts and make sure you are using the right approach to selling key accounts.
Start a "trade-only" email list and learn how to grow your email list of trade buyers.
Avoid spending time or money on activities that cannot be scaled. You simply must have the discipline to leverage the 80/20 Rule because the fastest way to accelerate your sales is to NARROW the focus of your sales activity to ONLY the most attractive and responsive accounts.
Time to "modernize" the way you view wine distributors.
As you can see, things have changed a LOT in the wine distribution game and winery owners and craft distillery owners would be wise to make the necessary adjustments.
What distributors USED TO be able to do, they can no longer do (or do as well). The burden of building new distribution for wine and spirits brands has shifted from the distributor back to the supplier (winery, craft distillery). If it is important to YOU, you will most likely have to do it yourself!
As always, we are available to answer any questions you have (we're totally serious about this). Just send an email to help@winesalesstimulator.com.