How to Segment Your Winery's Email List to Send Targeted Campaigns

Ben Salisbury
When it comes to selling beyond your tasting room, a solid email marketing strategy for wineries is gold! It is not just about how many subscribers you have but how engaged they are with your content. Email marketing segmentation is key to enjoying high open and click rates but also to converting those 'wine lover' subscribers into paying customers.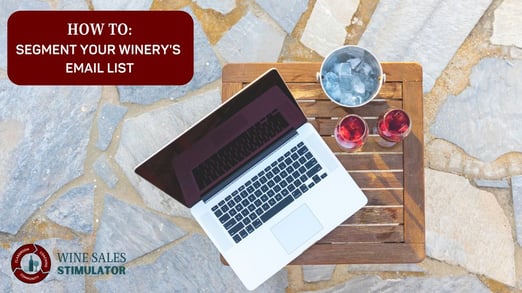 A modern email marketing strategy goes way beyond monthly newsletters and promo emails.
The best way to segment your email list is to use click segmentation as subscribers interact with your email content. But what if you already have a large email list that has not been properly segmented? This post will address BOTH these situations!
1. Decide HOW you want to segment your winery's email list.
Remember the seven "P's!" Proper prior planning prevents piss-poor performance! Invest the time to think about what your customers want. Effective email marketing for wineries is all about sending highly personalized, highly segmented email correspondence. In order to do this, you must figure out the best ways to segment your list(s).
Yes, some of these segments are no-brainers based on geography and product preferences. But, there is great power in using segments such as age range (Gen Z versus Boomer), industry, title/role, and hobbies/passions/interests.
Of course you are free to add more segments anytime you want but good segmentation starts with a basic foundation of creating the right segments to use for your business. Gather your team around you and do some brainstorming. Give this exercise the focused attention it deserves.
For inspiration, take time to study your subscribers' behavior and interaction with past emails. Who opens your monthly newsletter? Who clicks on the button for free shipping? Who opens all your emails about Chardonnay but ignores your emails about Pinot Noir?
Another powerful way to segment your audience is by their level of engagement. MailChimp, for example, has powerful analytics tools that allow you to gauge the level of engagement for each subscriber and then organize them into groups such as "super fans," or "moderately engaged," or "cold subscribers." MailChip does all the heavy lifting for you because IT tracks engagement very closely for each and every subscriber!
2. Immediately start segmenting the NEW subscribers to your winery.
Segmenting new subscribers as they come in is one of the best ways to segment your email list. And it can be done automatically. There are several ways to do this. One is to use radio buttons on your subscriber forms like this one: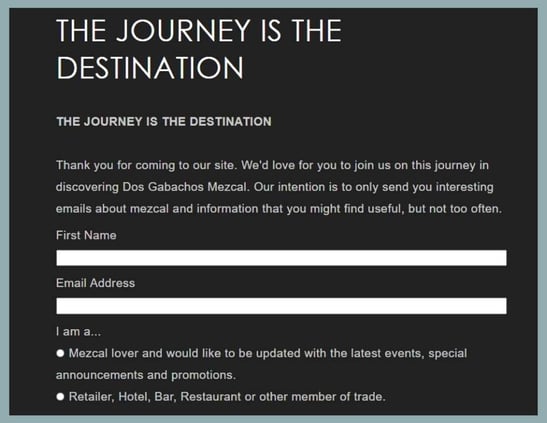 Use automated tagging tools to quickly tag new subscribers. Include radio buttons on your subscriber forms to collect vital data like location or particular interests. Content that is tailored for each categorized group will increase engagement and conversion rates.
Another way is when you run lead ads, run multiple versions of the same ad for each state. Then as subscribers come in, automatically tag them for that state. Let's say you run a lead ad for the state of New York. All the leads that ad generates can be tagged, "NY."
3. Allow subscribers to update their own preferences.
Give your subscribers control over their email experience to increase their sense of empowerment. Customization platforms encourage greater participation and help collect useful information for more precise segmentation. The best email software providers (such as MailChimp and HubSpot) have this feature.

Many users like to have control over which emails they want to receive. While they are updating their email preferences, they can also add bits of data such as zip code, birthday, and product preferences. Maybe they love brandy but do not care about vodka. Put the subscriber in the driver seat and you'll be rewarded, over time, with lots of great data for segmenting your list.

By implementing these tactics, you enable your winery to improve email list segmentation and build closer relationships with subscribers. The outcome? Campaigns that are highly tailored attract your audience and boost your winery's marketing success.
4. Segment EXISTING subscribers.
What if you have not been, up to this point, doing a great job of segmenting your list? How can you go back in and start segmenting your subscribers into distinct groups? One way is to look at what content people have been interacting with in the past. What can you tell about their interests from their actual behavior?
This will take a lot of pick-and-shovel work, but in the long run the extra effort will be worth it.
Let's say you sent out an email last month announcing the release of a new product and both in the subject line and the body of the email you talked about the type of product (i.e. a new barrel-aged gin). Go back and see who opened (or even clicked) on the email. You could then "tag" everyone who opened that email with "barrel-aged gin." Then, in the future, when you have more to say about your barrel-aged gin, you can send the correspondence only to those with the "barrel-aged gin" tag. Do this and watch your open rates soar!
Another thing you can do is segment by industry or title, or geographic location, or other demographic information. To do this, you might need to conduct a bit of research. Google them, search for them on Linkedin or Facebook. You would be amazed at how much information you can find out about people with a bit of research.
Don't have time to do this painstaking research? No problem! For $10-12 per hour, you can easily find someone on Fiverr who will happily do this – probably while you're sleeping. You could export your entire list to Excel. Then give the Excel sheet (like the one below) to your for-hire researcher. Ask them to fill in the columns of the spreadsheet as they discover more information about each subscriber. Then, import the data back into your email software!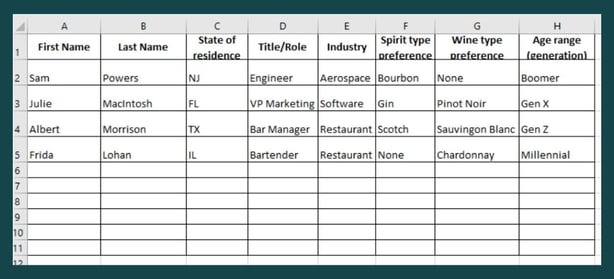 5. Send out a survey for wine preferences.
Want to know what your customers want? ASK THEM! Most modern email software will allow you to send out a fully-customizable survey to your subscribers. Surveys are a great way to learn more about your subscribers and then put them into segments based on what you learn from the survey. Some email service providers even allow you to auto-tag respondents based on their answers.
Not everyone will participate in every survey but enough will to make this a very valuable exercise. Be careful not to burn up goodwill by doing too many surveys. Once per quarter is a good cadence. And mix things up. Don't send out the same survey with the same questions every time.
If your email software does not have a survey feature, you can still send one out by putting survey options (responses) into the body of your email and use click segmentation to leverage the responses. Also, some email software allows integrations with survey-specific tools such as SurveyMonkey.
6. Analyze the results of your winery's emails!
Don't worry about having too many segments or tags. The more relevant segments you have and use, the better you can tailor your emails to the specific needs of your audience.
Many wineries and distilleries simply do what they've always done (sending out monthly newsletters, for example) because it is so much easier and they really don't know what else to do. Opportunity is missed by most people because it is dressed in overalls and looks like work. These days, the wine & spirits industry has become so competitive, everyone is forced to take their digital marketing to the next level. What got you where you are won't be enough to keep you there!
Here is how this works: a few days or a week AFTER you've sent out an email, go back and really study how your subscribers interacted with the content. Then use this information to further segment your list. How many times did they open it? What did they click on? While you're there, look at how they've interacted with your last 3-4 emails. There is a virtual treasure trove of insights available to help with your segmentation if you put in the time and effort.
Email is THE most powerful tool in your marketing toolbox! Take your game to the next level!
Effective email marketing is about doing your best to send the right content to the right subscribers at the right time. Segmenting your list is the best way to do this.
Resist the temptation to send your emails out to "all subscribers." Not only is this "lazy" but it will give you very poor results.
Want to learn more? We encourage you to explore our many resources on email marketing techniques and strategies for wineries and distilleries.