6 Account Types You Should Be Targeting Now

Ben Salisbury
Not all accounts are equal. Not even close
.
The 80/20 Rule is real and you ignore it to your peril. If you want to dramatically increase your wine sales, you must have the discipline to ignore most accounts and stay focused on the 20% of the accounts that drive 80% of the volume.
Once you fully understand and accept the 80/20 Rule is real, you can get down to the business of building your key account target lists.
Your key account target list should be researched and created based on your primary sales objective. For example, most wineries need to focus on hitting their volume targets every single year because failure to do so results in overlapping vintages and excess inventory. Unlike distilleries and breweries, wineries are locked into whatever grapes are growing in their vineyards or are on contract.
Accounts capable of volume are the most attractive
When you decide you need accounts capable of large volume, it naturally follows you must understand what TYPES of accounts produce large volumes each and every month.
Yes, it would be great if you could find data on the volume each account does but this information is only available in the state of Texas. The distributors have it too, of course, but good luck getting them to share it with you (especially if you are a small-to-medium size brand).
So, the next best thing is to look for accounts that meet certain "attributes" that indicate high volume is being done in those accounts. And that is what this article is all about.
Indicators of volume at the account level
Before we dive deeper into the details of each of the six account types capable of large volume, let us cover a few critical points. First, there is a perfect correlation between foot traffic and wine sales volume. Busy restaurants and retailers purchase a lot more wine than their competitors who have very little foot traffic.
Fortunately, we live in a world where if you know what to look for, you can do your own research to find these high-volume accounts. Tools such as Yelp, Open Table, and C-vent are incredibly useful for scouting out large volume accounts.
Objective data beats subjective data every time
Another important point to note is that subjective data cannot tell you where the volume is being done. Only objective data can do this. Here is an example. Yelp will show you how many stars a particular restaurant gets. This is a composite of everyone who took the time to provide feedback on their dining experience.
When it comes to researching the best restaurants for volume, "ratings" are pretty much useless. A much better metric is "most reviewed" because there is a direct correlation between how many reviews a restaurant receives and the total number of people visiting that restaurant.
A quick look at Yelp will show you the average restaurant receives somewhere between 100 and 300 reviews. So you can be certain that a restaurant that has received in excess of 1,500 reviews is a much busier restaurant. Guaranteed!
How to search for accounts that fit your brand
Once you begin identifying accounts capable of large volumes, the next step is to evaluate how appropriate each account is for your brand. For example, if you sell California wines, it will be a waste of time to target a restaurant that offers Italian wines exclusively. If you are selling high-end, Sonoma Coast Pinot Noir, you would be wise to study the wine menu of each high-volume prospect to see what high end Pinot Noirs they carry now.
This takes time, yes, but this time spent researching will save you countless hours chasing the wrong accounts that will never help you deliver your sales goals.
It is critical that you take the extra steps to look for the right "fit" for your brand. If a restaurant does massive volume at brunch, this is great news for sparkling wine producers but will not be much help for wines more suited to the dinner rush.
The 6 Account Types to Target Now
When it comes to account types that are capable of large volume, we suggest you focus on these:
To learn more about researching and targeting each of these account types, please keep reading!
Restaurants with private dining
When it comes to on premise account types capable of large volume, restaurants with private dining is hard to beat for several reasons:
When meeting planners book group dining events, they always include wine with the pre-set menu.
Restaurants with large private dining capabilities leverage in-house salespeople to pursue and book these events well in advance.
Most restaurants can seat groups of 25, 50 or even 100 diners or more at one single event.
To inspire you, here is a short list of examples. Take a few minutes to visit their websites and study how many people they can serve at one time. The numbers will blow your mind!
Most of these establishments have a special, more compact version of their wine menu for private dining events. Getting on this list could mean hundreds of cases per month for your winery!
Restaurants with massive outdoor seating
This is without a doubt one of the most attractive account types to target. Restaurants with outdoor seating often have six-to-ten times as much volume as similar restaurants with no outdoor seating.
It is also very easy to find these accounts using Yelp because you can check a box called "Outdoor Seating" in the "Features" section.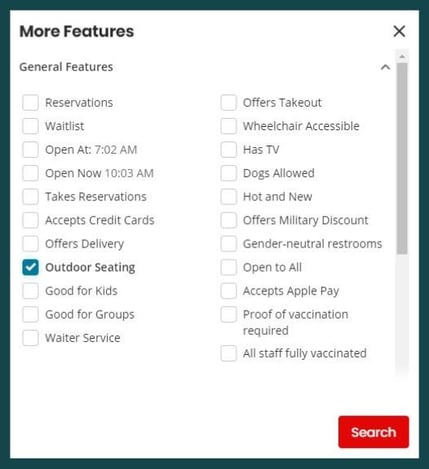 Screenshot from Yelp.
Some great examples of restaurants with outdoor seating include:
As stated above, please be sure and study the menu closely before putting one of these accounts on your target list to make sure it is a good fit for your brand.
Another thing you will notice as you conduct your research is many restaurants check both boxes: private dining + outdoor seating. That's when you know you have a high volume target on your hands!
Very large hotels
Large hotels are like little cities unto themselves. And the very largest hotels are capable of massive volumes of wine sales.
Beware the trap of believing that most of the beverage decisions are made corporately. While many of the biggest hotels do have corporately made decisions, the vast majority of the business is decided on the local level. Do not let anyone convince you otherwise!
By "very large hotels," we are talking about two key measuring sticks: number of guest rooms and total square footage of meeting space. The very largest hotels have at least 1,000 rooms and 100,000 square feet of meeting space.
Examples of these include:
Hilton Anatole Dallas (1,600 rooms + 349,000 square feet of meeting space
Hyatt Regency Atlanta (1,260 rooms + 181,000 square feet of meeting space)
Omni Boston Hotel at Seaport (1,054 rooms + 100,000 square feet of meeting space)
Yes, it takes a lot of time and effort to work your way into these venues but the payoff is so huge, you would be wise to make this a major focus of your time.
Small regional chains
There are more than 2,000 small regional chains spread all over the US! Regional chains are much easier to break into than the large, national chains.
It will take time and perseverance to break into one of them but the rewards in terms of volume sales make it all worthwhile.
Some examples of both on and off premise chains include:
The beauty of focusing on small, regional chains is when you do break in, your efforts are multiplied many times over. One "call point" but many locations equals large volumes of business. Prioritizing these venues can help to dramatically accelerate your sales.
Independent package stores with robust e-commerce sales
Seemingly overnight, the pandemic pushed independent retailers into the e-commerce space with a vengeance. As a result, the best operators now have multiple streams of income. They can rely on their in-store foot traffic but also those who prefer to order online. In most cases, consumers can choose between local delivery (via Drizly), in-store pickup, or direct-to-consumer shipments.
Adding some of these account types to your list of target accounts is very wise. It takes a little bit of research but you can do it without leaving your desk!
Here are some of the things you want to look for when you visit the websites of potential prospects:
Are their email marketing efforts front and center? Do they have a popup asking you to join their email list? If so, this is a clear indication that e-commerce is a thing for this account.
A "shopping cart" located on the website is a dead giveaway this account takes electronic orders.
Very active on social media. Most of the best independent package stores that sell a lot of products digitally understand the importance of having a robust and highly engaged following on social media.
Offer an "app" for your smartphone.
Have their own wine clubs
As most successful package stores have figured out, when it comes to e-commerce, it is not necessary to have an SKU in stock in order to take an order for the product. They receive the order, turn around and order it from the distributor, and then fulfill the order for the consumer. This allows even the smallest package store to "stock" an unlimited selection of wines & spirits.
Some great examples of this account type include:
Of course, the wineries that will have the most success with this account type already possess their own knowledge and experience with DTC sales which includes extensive knowledge of email marketing, social media, and digital marketing.
Package stores buying winery direct deals
This strategy is not for everyone but it is absolutely a game-changer for the smaller producers out there.
Total Wine & More may or may not have invented this sales strategy but they certainly have perfected it. So successful are they at the winey direct (and spirits direct) game, they have forced all their competitors to jump into it too.
In a nutshell, here is how the game works. Retailers approach wineries directly and offer to enter into a "direct" relationship with them. This means instead of using a "traditional" three-tier distributor, they utilize a "clearing distributor" to legally "clear" the goods into the state. This saves a lot of money by eliminating most of the markup that a traditional distributor would take. The savings goes towards fattening the retailer's profit margins. The last thing this "game" needs to work well is a steady stream of brands no one has ever heard of so it becomes impossible for the consumer to comparison shop.
Virtually all of Total Wine's competitors are doing this. The telltale signs a retailer is doing winery direct (and spirits direct deals) include:
Prominently featuring wines on their website, on the floor of their retail stores, in the cold boxes, and in their "flyers."
Brands no one recognizes
Frequent shopper programs where only the winery direct brands count towards rewards
All of the "featured items" and "top picks" are winery direct brands
Take a look at the websites of some of these retailers to verify the bullet list above is true:
Smaller brands that have limited distribution can (and should) take a very serious look at this strategy. Click here to learn more about how to do winery direct deals.
The key to accelerating sales is to narrow the focus of sales activity and investment to only the most attractive and responsible accounts.
This is a less-is-more approach that allows you to do more with less. It is not only the smarter way to approach your sales, but with competition increasing every year, it is an essential way to approach your sales.
If you enjoyed this article and want more information on how to accelerate your sales, please take a look at our new membership program called, Wine Sales Stimulator. It is the only group membership program in the industry that provides everything winery and distillery owners need to grow their sales. Key Account Targeting is one of the twelve different classrooms we have in the program.