6 Keys on How to Sell Fine Wine

Ben Salisbury
Fine wine, luxury portfolio, high image wines – whatever you call it, I'm sure you want to sell more of it. When it comes to selling higher image wines, you've got to be strategic and plan ahead. These six keys will help point you in the right direction.
If you prefer a video version of this post, you can find it below:
1. Avoid partnering with the chains.
I know it's tempting. There's a tremendous amount of volume to be had in the chains, and plenty of them do sell very high image wines – but don't fall into the trap! I have nothing against chains in general. The problem is once you get into the distribution of one or two of these chains, you immediately alienate most of the independent restaurants and all of the independent retailers.
It's the chains versus the independents
It is very hard for independent restaurants and retailers to compete with the chains. Wine buyers for independents can simply go to winesearcher.com, put in the name of your brand, and they immediately see who else is selling it and more importantly, the price they're selling it for. By placing your fine wine brand into the chains, you just alienated one of the most important markets.
Play the long game to sell more of your fine wine
Sadly, I see this all the time, and I know why. You've got to have cash flow; I get it. Unfortunately, if you want to be in this business long term, you've got to play the long game. There are a lot of wine companies that have both a commercial portfolio and a part of their portfolio that's designated more toward the higher end wines. Some companies just sell fine wine. In either case, if you have a fine wine portfolio and want to be successful, keep those particular brands out of the chains!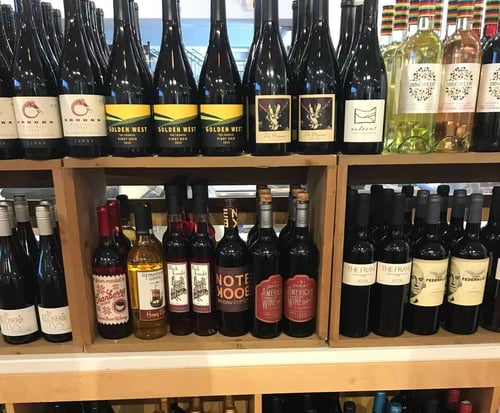 2. Rely less on distributors to generate demand.
This is something you've likely seen or heard me say before. I say it often, and it usually gets taken out of context. I am not trying to say you shouldn't use distributors, and I'm certainly not implying that distributors aren't important. Of course they're important – they're essential! I am simply saying that you should be careful of relying too heavily on them. Learn how you can work successfully with your wine distributors.
Lots of "pick-and-shovel work"
When you're selling fine wines, you're selling luxury. It's a lot of detailed pick and shovel work. It's usually a smaller volume of wine to a larger number of accounts. It's a six pack here, a case there at a lot of different restaurants.
Unfortunately, it is not realistic to expect wine distributors to do that kind of detailed work anymore. In the last six or seven years, something crazy has happened – the number of distributors in the US has decreased dramatically, while the number of wine brands on the market has blown up tremendously. This created an incredible bottleneck that has left winery and distillery owners feeling exceedingly frustrated.
So what do you do instead?
This begs the question: what should you do instead? You're going to have to go out and build most of your own distribution if you want to be successful with your fine wine.
3. Choose the right placements for your fine wines.
As you begin to explore the task of building your own distribution and generating your own demand, it's essential to consider that there is a right place for your wines – and a wrong place.
Let the restaurant elevate your wines (not the other way around)
I spent many years working for Ste Michelle Wine Estates. We represented the Antinori portfolio, and during my time there, I learned many things from Piero Antinori. One of the things he used to say is that he didn't want his finest wines to elevate the restaurant, he wanted the restaurant to elevate his wines.
He didn't want a mom and pop, red sauce palace, spaghetti joint around the corner, putting Tignanello on the wine list and saying, "Look at me! Look at me! I have Tignanello." That wouldn't be very accretive to his brand image. Instead, if his wine was on the list at Per Se in New York, well, that would be very different.
Spend time doing research to find the best accounts
This concept is very valuable, but it does take some research and careful planning to find the best accounts. Where are the highest image restaurants? Which ones are busy; which ones do private dining? Which ones have brunch and outdoor seating? Some of these restaurants also serve very expensive wines by the glass. They usually have wine preservation systems like Coravin or Pepour – and they have a $50 glass of Burgundy. These are the accounts that have the potential to go through a case or two of your wine in the course of a month, and these are the accounts you should be targeting.
One of the most "attractive" accounts for off-premise
For off-premise, one of the most attractive accounts to go after are those independent shops that have a very robust eCommerce business – they sell more wine off their website than they do in their brick and mortar store. That means they can have a virtually unlimited inventory! They don't have to physically carry the product to sell it online. When a fine wine buyer comes to their website, they'll see your brand and they'll place an order. Then, the retailer can turn around and order a 6-pack or a case from the distributor, and no one ever knows that it wasn't in stock. Find out the 6 best account types I think you should begin targeting.
If you do the research to find these places and put them on your target list, go after those accounts specifically. I have a demo video where I show you exactly how to do the research and make a top-notch target list.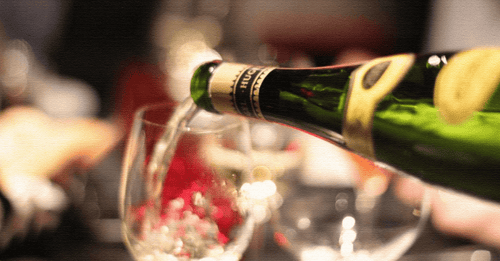 4. Re-think the use of wine blitzes and distribution incentives.
My inbox is already prepared for the hate mail I'm going to get for this one, but stick with me!
You've got wine blitzes – also known as crew drives. You get everyone together to focus on one item, you pull a bunch of samples, and you spend some money on lunches and dinners. Then everyone gets together and says, "look how many new points of distribution we got!" Watch my video on why wine blitzes don't work too well.
Then you've got distribution incentives. You cleverly put together an incentive so that the sales people get x amount of money for every new point of distribution. There's usually a minimum – six bottles, three bottles, etc.
The problem is these placements don't "stick!"
Our industry has been relying on these two tactics for decades. And if you haven't heard it yet, I'm here to tell you – those placements don't stick. You did a big blitz and had success, but guess what? There's another one next week, and the week after that. The retailers and restaurants are used to the hamster wheel of "products in, products out." This entire industry has been built on this type of churning activity, and all it's doing is making you, the supplier, spend more money.
What used to work in wine sales, no longer works
These methods used to be effective – back in the good days when the ratio of distributors to wine brands was more balanced. Now, it's only benefitting the distributors. They're cashing in on the incentives while your brand goes in and out, back and forth. It's time consuming and expensive and generally a waste because most often, these placements don't stick.
If you're still skeptical, go check your numbers. See how many of the placements you gained in your last blitz actually stuck. Look at a list of the new distribution you got from your last distributor incentive. 90 days later, most of it is gone.
How much "churn" is too much churn?
Obviously you're always going to have some of this issue – it's the nature of the industry that 10-15% of the restaurants that buy your product will never buy again. I just caution you that if that number is higher – if you have 50% or 70% of your wine distribution churning, that's a big problem.
5. Use less wine-knowledge and leverage customer relationships to sell more.
Listen, there is nothing wrong with fine wine knowledge and accumulating certifications. My hat's off to the people who can do that – it's very impressive!
Wine knowledge isn't enough to sell
Unfortunately in today's competitive environment, it's easy to overdo it and assume that having this or that certification and a very gifted palette will somehow set you apart and differentiate your ability to sell. It won't. Hundreds of people have those same skills, buyers and salespeople alike. It's important, but it's not enough.
Business acumen is key
Instead, balance your wine knowledge with a healthy dose of business acumen. You need to have a full understanding of the businesses that you're selling to. What motivates the fine wine shops? What are the concerns of the high image restaurants? What is keeping them up at night? How much money do they have tied up in inventory, and how much do they turn that inventory? How do they attract their customers?
Restaurants are fairly straightforward. I've spoken before about the three things every restaurant wants: to optimize their revenue, control their costs, and improve guest satisfaction. You must be thinking about how your wine is going to help them achieve one or more of these things. That is what you should be talking about in your presentations.
Help your customers leverage wine industry trends
If Spanish varietals are enjoying a season of popularity, you might have a conversation with the restaurant owner about how that's going for them. Are they leveraging the trend? Are they finding that their customers like those styles of wines? What's working and not working for that restaurant? These are the conversations you should be having.
Do not just go straight to the sample bag and start talking about your product. Product-based selling is dead; "features and benefit" selling is outdated. It just isn't doing the trick anymore.
Set yourself apart with service and dependability (not knowledge)
Your wine is not so distinct that you're going to win people over with your wine knowledge and product attributes alone. Balance it out with some solid customer service – make sure your product gets shipped at the price you quoted, don't run out of stock. There are plenty of great wines in the market to choose from. You have to set yourself apart in a different way; find out my 'secret' to selling to on-premise accounts.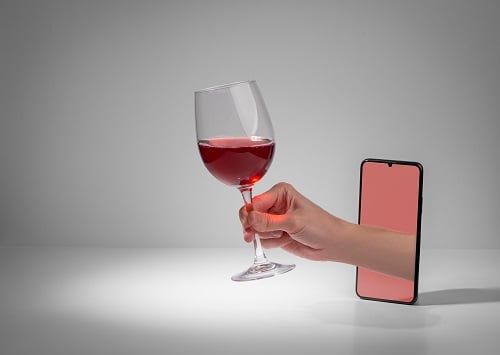 6. Implement wine social media campaigns and email marketing strategies.
Wine marketing is one of the lowest cost, highest return on investment tools that you can use.
Let's talk about social media and strategies you can use to promote your winery with organic social posts. If you're a salesperson, you should have a social media presence, and remember those target accounts we talked about earlier? You should be following them! Engage with them; study them. You can learn so much about what's important to an account through the use of social media.
All modern sellers need a well-curated social media presence.
I know some people like to keep their personal life separate from their business life, but unfortunately for them, selling has become a lot more personal in today's market. If you're lagging in the social media department, the good news is that this is an easy fix to make, and it's well within your control!
Wine email marketing is even more crucial. You might have a little black book of all the right buyers in your market – your wishlist that you want to sell to. That's great. Now, it's time to elevate your process. Use a tool like MailChimp or ConvertKit. Load all of your [potential] buyers into it and segment them!
Segmenting your contacts is the key to engagement
Segmentation in email marketing refers to separating your contacts into lists. Maybe you have a list of people that love old world wines, maybe there's several people that really love to see the new things before anyone else. Once you have people all sorted out (and yes, people can be on more than one list!), then you can begin communicating with them in a way that interests them.
This is very different than just sending out email blasts to your entire list every time a thought occurs to you. This is intentionally and deliberately communicating with buyers about things that they find compelling and meaningful.
This is obviously a lengthy topic in itself, but if you're not utilizing email marketing, a great first step would be to study how other people use it in a B2B context.
_________________
Wherever you are today, stop and take stock of where you are and see what it looks like to go to the next level.
We invite you to learn more about increasing your wine sales with our free mini-course called 'The Sales Modern Playbook for Selling Wine & Spirits'. This course will teach you modern wine sales strategies you can implement right away to improve your sales process and manage your wine sales reps effectively.